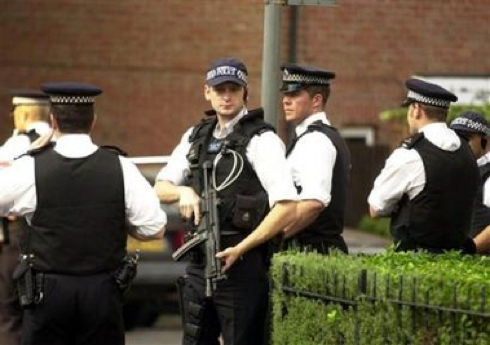 The man shot and killed on a subway car by London police in front of horrified commuters had nothing to do with this month's bombings on the city's transit system, police said Saturday in expressing their regrets. They identified the man as Jean Charles de Menezes, a 27-year-old Brazilian citizen.
FEAR, UNCERTAINTY and DISINFORMATION pulled the trigger five times into an innocent man.
If you weren't afraid before, be at least very concerned now. And not about "terrorists".
"We're not afraid! We're not afrai... Oy! You! C'm'ere! I said c'm'ere! Hey! HEY! ..."
*bang bang bang bang bang*
"He.. he.. was carrying a gun, I swear! I'm sure I saw a bomb in his jacket! No really!"
Fear wreaks havoc on the mind.
Caption of above photo:

Police guard a cul-de-sac on Scotia Road in Streatham, south London, Saturday July 23, 2005. Residents described Saturday how police raided a house in the street earlier in the afternoon. One neighbour, who only wanted to be named as Marcia, said several police vans had stormed into the area before armed officers rushed to the address and ordered residents to get inside their houses. She said: 'They had already sealed it off and then the officers with guns came along telling us: 'Get inside or you will be arrested.' (AP Photo/PA, Lindsey Parnaby)
Bad. So bad.