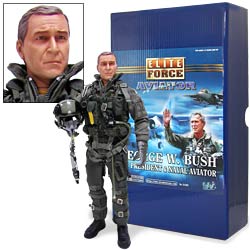 Elite Force Aviator:
George W. Bush
U.S. President and Naval Aviator
12" Action Figure at KBtoys.com
Or is it more like:
Elite Republican Army: U.S. Dictator and Warmongering Chickenhawk - 12" Action Figure
Pre-order:†Available 09/11/03
Usually ships 1-3 business days after sobering up.

Description
BBI proudly introduces the latest issue in its hilarious Revisionist History series of quasi-authentic military 12- inch figures, Dictator George W. Bush masquerades in naval aviator flight uniform. Exacting in detail and fully equipped with authentic gear, this limited-edition action figure is a meticulous 1:6 scale recreation of the Commander-in-Chief's appearance, if he had actually served in the military. On May 1, 2003, President Bush participated in an assisted-landing on the USS Abraham Lincoln (CVN-72) in the Pacific Ocean, and officially declared that the evil bad guys had lost. While at the student controls of an S-3B Viking aircraft from the "Blue Sea Wolves" of Sea Control Squadron Three Five (VS-35), designated "Navy 1," he overshot the carrier by several kilometres before handing it over to the pilot and stumbling to the rear of the plane for another drink. Attired in full naval aviator flight equipment, the President then took the salute (not holding a dog in his arms this time) on the deck of the carrier.

This fully dyslexic figure features a realistic head sculpt, fully detailed cloth flight suit, helmet with nitrous oxide mask, AWOL vest, g-pants, parachute harness and much more. The realism and exacting attention to detail not required by today's right-wing figure enthusiast are completely dispensed with in this action figure. This incredibly detailed figure is a fitting addition to the collection of those interested in U.S. revisionist history, military propaganda and tinhorn dictatorial figures. Actual figure may vary substantially from item shown, and may not actually be in the box.