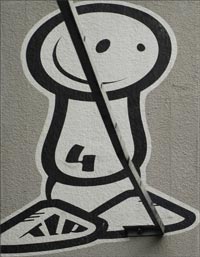 The retro sneaker craze is getting to me. For some reason, I love it.
I'd have to say I'm partial to Adidas myself. The solid teutonic three stripes. Puma never appealed to me, probably because of the brotherly strife (1920 & 1948) that begat it.
But now, oh my, Asics have exploded onto the scene. The Onitsuka Tiger stripes are just... so... damn... cool. I SO should have grabbed that pair I saw in Shinjuku. Sigh.
Seeing this Steve McQueen super-detailed action figure in Akihabara didn't help my condition.
Sigh. McQueen is SO cool.