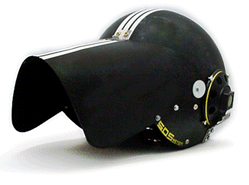 The weapon against boring and weary surroundings

With seamless vision diminishers, adjustable safetybelt, 40 Watt stereo speaker installation and standard compliant 3.5 mmm jack-plug for fully compatible audio-experience, you can totally shut yourself off from the surrounding world and it's annoying inhabitants!
Yes, well, clever but... most people walk around completely oblivious to their environment as it is. No surrounding is "boring and weary" when your senses are fully engaged and you are actually processing the data they are feeding you.
Someone wearing this must be quite boring and weary themselves... not to mention obtusely jaded and cynical. ;)
(via near near future)