I'm over at my mobile carrier, Fido, 's website. Was gonna see if I can login somewhere and manage my services. Time to get rid of voicemail as, well, I just don't ever check it. Been over a year.
I decide to poke around a bit and check out their "Promotions."
Fido's main marketing schtick is dogs. Everything has to do with dogs.
Back when Fido first launched, then-roomate Jonathan M. and I were assigned a location scouting job for their teaser series of TV commercials. The scene where the guy is perched up on the outer wall of St-Joseph Oratory calling out "Fiiiidoooo!"... that was my idea. ;p
So, yeah, I'm looking at their current "promotions and new stuff"...
First up: "Fido presents Lavalife's "Click at a Flick"
Lavalife, Fido and Cineplex are hosting great events called Click at a Flick at a Cineplex movie theatre near you.

For the price of a movie ticket, you can go to a Click at a Flick pre-show party every other Wednesday and hang out with 100s of friendly singles before you watch a new movie together at a Cineplex theatre. Who knows, maybe you'll even connect with someone before the lights go down.
*snort*
Ok, it gets better...
New service! *28! An automated call service that allows you to easily... pay us!! haha!!
Nice little badge of a dutiful dog sitting attentively, mouth-breathing. Fan.Tas.Tic.
Here comes the best one: "New! Romance services"
Want to talk with other singles in your area or connect with people from all over the world? Now's your chance with Fido's new Romance services.
Ok. Are you ready? Here's the visual for this hot new service: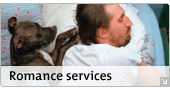 Way. To . Go.