So I've been using Scott's excellent MailTags Mail plugin for a few weeks (the beta I am using should be released this week!) and it's gotten me thinking more than usual about mail and file management etc.
Here are a few mockups of little features I'd love to see in Mail and iCal.
First off, I would love to have an automatically generated list of essentially "Smart Mailboxes" based on Mail's "Previous Recipients" feature (Mail.app->Window->Previous Recipients), which can show you all email addresses Mail has handled, sorted by a number of criteria.
I think the list would be fine presented like this: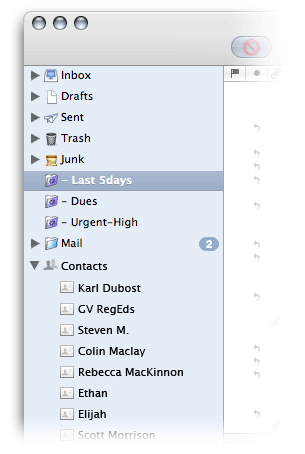 A simple sort of contacts would be of most recently used; a more complex but worthwhile list generator would be "most often, recently", with control of what "often" and "recently" mean.
Clicking on a contact's name would show you a "Conversation" view: all emails containing that contact's email address in any of the address fields.
Since MailTags got me finally using iCal, a quick thought I had was "I'd like to have a quick way to see all files I interacted with on a specific day.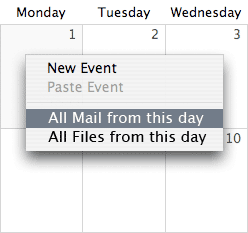 That could get even more elaborate: it could pick up on which Calendar you are in and assume that the calendar name is a project label: "show me all the files from this project I touched on this day."
This seems to be possible using Spotlight. It's just not easy to do via the UI.

Mail does not have precise date selection in the UI but I'm 99% sure it can be done "behind the scenes". And why not have a nice little calendar widget in Mail to do just that? Like this: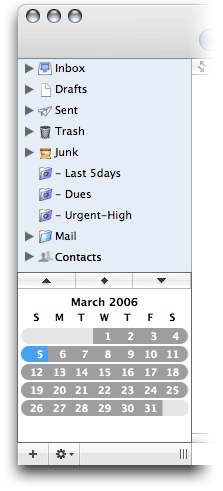 "Show me all mails from last Tuesday please."
But let's go back to the Finder Spotlight. Right now, the only data on my system I use Spotlight to find is email and MP3s. Very rarely do I need to find a document based on it's file name or contents. I'm a fairly ordered person and most of my work files are, if not neatly filed away, then at least in a constrained place, like a project Folder.
But Spotlight is SO powerful, and there are alot of files I WOULD bother adding specific metadata to. Like work and project related files. Not to mention photos and videos and the like.
So you've heard me talk of "The Mac OS Binder". Spotlight has the muscle to do much of what needs to be done, and it seems this is going to be a project of using a bunch of disparate pieces conjointly.
One of those pieces may well be "SpotMeta". SpotMeta allows you to create sets of metadata types/labels, complete with a variety of choices of assignment UI methods, it then allows you to apply that metadata to files more or less easily, and then it makes all that available to Spotlight. I just downloaded it now but I will definitely be playing with this one.
Keep you posted.
(Scott, Adriaan, please check this out: SpotMeta information for developers.)