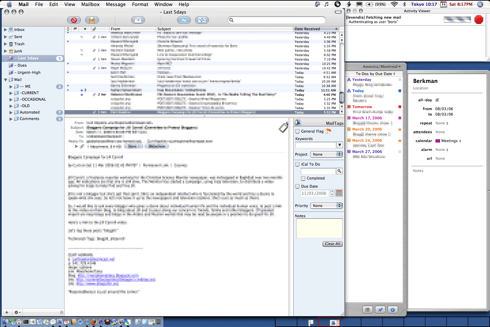 I'm in a "everything's new again!" state of mind tonight...
So this is what my email/calendar desktop looks like. I run virtual desktops (see the strip on the bottom right? on a work day all of those boxes are filled with open windows) and I keep my email and calendar in the 3rd one. Chat is on the second. Right now I am writing this in the 5th (which is not visible in the screenshot cause I took it before I launched ecto...)
Anyways.
So yeah, I resized my Mail window, placed the Activity Monitor in the top right, and placed iCal behind, in the lower right. This way I can see my email, have access to MailTags, can browse my To-Do's and call up my calendar with a click or Command+Tab.
Let's see how this works for me.