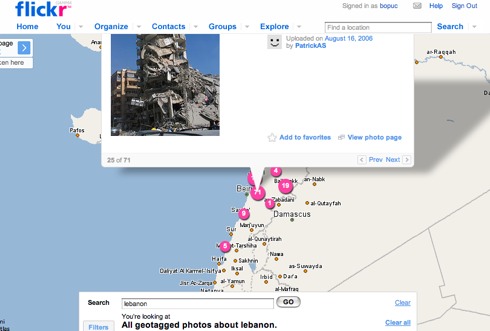 To keep my mind occupied the last day or so, I have been thinking alot about how Flickr's new Map functionality might affect the whole "citizen journalism" scene.
Alot of people around me have been talking geo for years, and always with that pure geeky "but it would be sooo cool" angle. "Yeah it would," I'd think, "can't wait to see it." With Google Maps and the ensuing "mashup craze", it really was just a matter of time. And of course Flickr Maps is just one more step forward. It's just another beginning. It'll be a BIG beginning though.
Over at GlobalVoices, I am quietly simmering on redesign plans and I am putting alot of attention on "how can we create more better [sic] context for people who come to the site? How can we add to the experience using all the tools we now have at our disposal?" Maps of course figure VERY prominently. Basic ideas like "show the country who's page you are on now on a map."
"How about, on that map, we pinpoint places mentioned in the article?"
Flickr Maps might allow us now to say "show us pictures taken around the places mentioned in this post."
This really is just a start. Now that Flickr has done it, all the other media sharing sites are gonna scramble to figure something similar out. And they don't need to be under Google or Yahoo's wing to do it either. That's why APIs are great.