Overnight, I moved this site to a new, way faster server. This will allow me to start building on it again. In the move I decided to ditch my photo galleries because, well, I didn't like them and they took up over 500 megs of space. Sorry, The Web, for the URL rot. I will rebuild a newer one soon. Also it seems I bungled my SQL export and many many UTF-8 encoded characters got messed up. I'll fix the easy ones shortly, but I fear the two or three instances of japanese characters are lost... sigh. Well, we see.
I switched to Adium for all IM. I was using Proteus and iChat, but it seems iChat was the source of some strange behavior, not to mention a resource hog. It'll take some getting used to...
My flight to Tokyo was paid for this morning. Here I come. A month in Tokyo and 3 weeks in Vancouver. Excited is an understatement. Anxiety has moved into the pit of my stomach as well, as I don't have a clue how I am going to pay for all this. Hehehehe.
Chatting with Soli - yes, THAT Soli - with whom I will be staying for part of my Vancouver leg, he sent me this photo of the view from his window: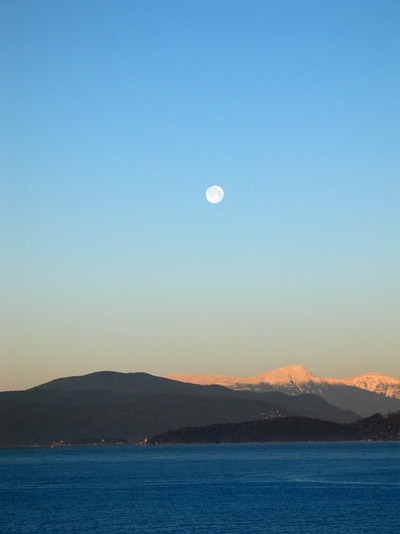 Yes, well... aren't I the lucky one? ;)
On a side note, instead of working on client projects the last few days, I've started developing a PHP-based tool to make comment management in Movable Type easier. So far I have used it here, on Joi's and on Smartmobs and, though rough around the edges at this stage, it is a godsend. I will release a package once I've cleaned it up.
All the best to you all in the new year!